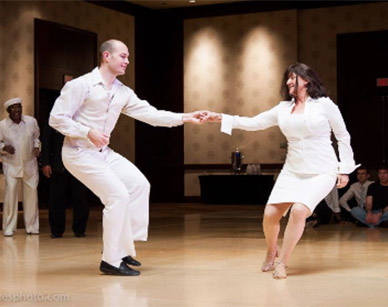 Sylvia Sykes
We couldn't be more pleased to have Sylvia Sykes as our special guest instructor this year! Sylvia is a swing dancer, dance instructor, judge and choreographer. In particular she is considered by most to be the leading authority on the dance Balboa.
She studied with Dean Collins and was a member of his last dance troupe. She also studied balboa with Maxie Dorf and spent years learning from the greatest Southern California balboa dancers. Sylvia is an inductee into the National Swing Dance Hall of Fame, as well as the California Swing Dance Hall of Fame. She is a U.S. Open champion, was the NASDE top point winner, two-time California Balboa Champion, took third place in the National Carolina Shag Dance Championships and has won many Strictly Swing and Jack & Jill dance contests through the U.S. in Lindy Hop, balboa and West Coast Swing. She was twice voted Swing Dance Teacher of the Year and is a four-time Feather Award winner as Best Female Lindy Dancer in the U.S.
She has performed with Count Basie, Glenn Miller Orchestra, Artie Shaw and Les Brown; and she has appeared on many television shows such as American Bandstand and Gotta Dance for the American Movie Channel. She also represented the U.S. in the World Boogie Woogie Championships in Grenoble, France with her original partner Jonathan Bixby.
Following the retirement of her long-time dance partner Jonathan Bixby, Sylvia continues teaching in Santa Barbara, California and leading workshops around the world. Sylvia has been the head judge for many national swing events as well as being an expert teacher on how to judge. In August 2008, Sylvia joined Nina Gilkenson and Tena Morales in founding the International Lindy Hop Championships.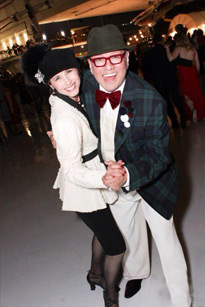 Ramiro Gonzalez
Ramiro Gonzalez is renowned for his inspired teaching, amazing footwork and following skills. As a competitor, he focused on the spontaneous dancing of Jack & Jills and Strictly Swing contests.
National Living Legends of Dance inductee - 2000
World Swing Dance Council Hall of Fame
Feather Award winner for Dancer's Choice, Most Outstanding Swing Dance Teacher - 1994, 1995
Feather Award winner for Dancer's Choice, Best Male Swing Dance Teacher - 1996
Entertainer of the Year Grand Nationals Dance Championships - 1996, 1997
Ramiro began swing dancing when he was 18, teaching at an Arthur Murray franchise for sixteen years. In 1986, he attended his first Phoenix 4th of July convention at the urging of his friend Glen Russell, and became hooked on West Coast Swing.
Along with his reputation for great footwork, Ramiro is known for being an incredible follower. When asked about this crowd-pleasing ability, he simply says, "As an Arthur Murray instructor, we had to learn both parts to be certified. Our studio ended up not having a certified follower so I just did a lot of it and it spilled over into all of my dance."
Ramiro competed primarily in Champion Jack & Jill and Strictly Swing competitions for over 13 years. He won the Strictly Swing at the US Open Swing Dance Championships in 1995 with Sylvia Sykes. Other first place finishes include Dallas DANCE, Boogie by the Bay, Capitol Swing, Chicago Classic, Texas Classic, American Swing Dance Championships and Grand Nationals Dance Championships. He competed rarely in routine divisions - once with Francis Bostwick in the late l980s and once with Sylvia Sykes.
Ramiro continues to teach dance, primarily focusing on Swing, Swing-out, and Salsa. He helped form a swing dance club in Odessa, Texas with his friend Gwen and taught at Odessa College. He hosted a dance at The Last Teardrop bar in Dallas, playing "just good ol' R&B." As he stated, "I love this dance ... and the classic music that we all enjoyed, and that made our dance what it is." He currently teaches at the Move Studio in Dallas and is also a special guest teacher at The Rhythm Room.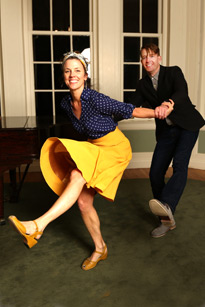 Ryan Martin and Amanda Pincock
Ryan Martin's love of jazz music initially inspired him to start swing dancing in 1997. Since that time the music and dance of the swing era have become two of the primary preoccupations in his life. He has been dancing and teaching various swing dances off-and-on for the last twenty years.
For the past nine years Ryan has expanded his involvement by studying the history of these dances. He travelled around the country collecting interviews with dancers from the original swing era and made a feature length documentary on Collegiate Shag. He is a co-founder of the Hot Rhythm Foundation, a non-profit organization that seeks to promote and sustain the jazz music and dance forms that originated in early part of the twentieth century.
Today Ryan travels to teach the Collegiate Shag both domestically and abroad. He currently holds regular classes in Collegiate Shag at Four on the Floor Dance Studio in Austin, Texas, as well as The Rhythm Room Dance Studio in Dallas, Texas.
Amanda Pincock began swing dancing in 1995 and did her first swing-out a year later. After moving to Austin,Texas in 2014, she fell in love with Collegiate Shag and immediately began competing. She won the first Shag competition she entered at Hot Rhythm Holiday 2015 and has been competing regularly since that time.
Most recently she took first place in the Strictly Shag division at Hot Rhythm Holiday 2017, as well as at the California Swing Dance Championships in Sacramento in 2016. Amanda loves spreading her love of Shag and other swing dances with new and experienced dancers alike, and travels nationally to teach. Currently, she teaches Swing dance classes at Four on the Floor in Austin, Texas.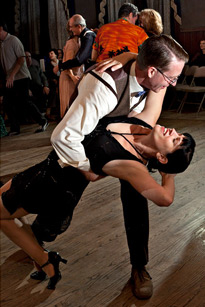 Elaine Hewlett
Elaine Hewlett has been teaching dance for over 15 years. She has won national competitions, as well as judged competitions both locally and nationally. She has appeared in television commercials and talk shows in the United States and Japan. In Dallas, Elaine owns and is the primary instructor of The Rhythm Room.
Elaine has consulted with the Dallas Fort Worth Ballet for their production of the Rite of Swing and numerous plays at Kitchen Dog Theater. She choreographed and performed in Plano Repertory's 2004 production of Swing as well as numbers in the Contemporary Ballet Dallas 2007 production of A Christmas Carol.
In addition to teaching in DFW, she has taught at workshops around the country including the St. Louis Tap Festival, American Lindy Hop Championship, Oakland Swing Festival, Swing Out New Hampshire, New England Swing Dance Championship, Great Southwest Lindy Fest and Austin Swing Riot.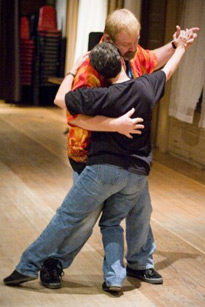 Kathy and Jerry Warwick
Kathy Warwick has been teaching dance in Dallas for almost ten years. She has specialized in in the vintage dance forms of the early 20th century, to include Lindy Hop, East Coast Swing, Charleston, Jazz and Blues dance forms. She is a founding member of the Dallas Swing Dance Society, currently sits on the board of directors and is the Executive Director of Acme Swing Company.
Kathy has been a featured dance instructor at Austin Blues Party, Enter the Blues, Denver Blues Summit, Houston Fusion, Emerald City Blues, Down Home Blues, Mezz Jelly and many other dance workshops across the United States. She believes learning to dance should always be fun and strives to help all of her students achieve better results that they ever imagined.
A dance instructor with over a decade of experience in Blues, Lindy Hop and East Coast Swing, Jerry Warwick has been social dancing for four decades. His most recent 14 years have been dedicated to Lindy Hop, East Coast Swing and Blues styles.
Jerry, with his wife Kathy, have taught to rave reviews across the U.S. as featured instructors. They have and entertaining style of teaching with a strong emphasis on technique and fundamentals. After a class with Jerry and Kathy you will realize that you not only had a great time but you walked away with principles you can use all night long on the dance floor.