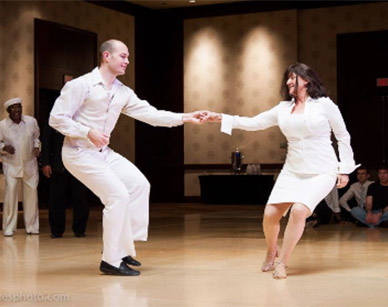 Sylvia Sykes
We couldn't be more pleased to have Sylvia Sykes as our special guest instructor this year! Sylvia is a swing dancer, dance instructor, judge and choreographer. In particular she is considered by most to be the leading authority on the dance Balboa.
She studied with Dean Collins and was a member of his last dance troupe. She also studied balboa with Maxie Dorf and spent years learning from the greatest Southern California balboa dancers. Sylvia is an inductee into the National Swing Dance Hall of Fame, as well as the California Swing Dance Hall of Fame. She is a U.S. Open champion, was the NASDE top point winner, two-time California Balboa Champion, took third place in the National Carolina Shag Dance Championships and has won many Strictly Swing and Jack & Jill dance contests through the U.S. in Lindy Hop, balboa and West Coast Swing. She was twice voted Swing Dance Teacher of the Year and is a four-time Feather Award winner as Best Female Lindy Dancer in the U.S.
She has performed with Count Basie, Glenn Miller Orchestra, Artie Shaw and Les Brown; and she has appeared on many television shows such as American Bandstand and Gotta Dance for the American Movie Channel. She also represented the U.S. in the World Boogie Woogie Championships in Grenoble, France with her original partner Jonathan Bixby.
Following the retirement of her long-time dance partner Jonathan Bixby, Sylvia continues teaching in Santa Barbara, California and leading workshops around the world. Sylvia has been the head judge for many national swing events as well as being an expert teacher on how to judge. In August 2008, Sylvia joined Nina Gilkenson and Tena Morales in founding the International Lindy Hop Championships.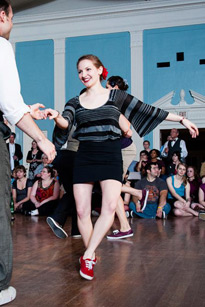 Grace Durant
Grace Durant has hit the ground running with Lindy Hop since she began dancing in the Dallas Fort Worth area where she has quickly become a rising star. Within the last few years, she has competed throughout the Midwest, placing 1st in a Jack and Jill and 1st in a Strictly Lindy in Dallas, 3rd in the Jack and Jill and 3rd in the Pro-Am at The Rhythm is Jumpin', and 3rd in the Open Strictly Lindy and 1st in the Advanced Jack and Jill at Lonestar Championships. She continues to travel and compete, expanding her horizons. Grace has been teaching all over the DFW area and has even traveled to Tulsa, Oklahoma to teach at the Greenwood Swingout.
Grace is known as a true follow, and her dancing, as her name indicates, is often described as graceful, classy and elegant. In the classroom, she focuses on follow technique and movement. She is always so excited to share her knowledge and love of dance.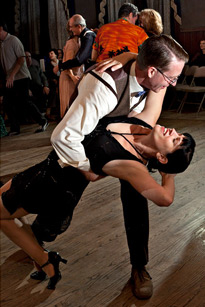 Elaine Hewlett
Elaine Hewlett has been teaching dance for over 15 years. She has won national competitions, as well as judged competitions both locally and nationally. She has appeared in television commercials and talk shows in the United States and Japan. In Dallas, Elaine owns and is the primary instructor of The Rhythm Room.
Elaine has consulted with the Dallas Fort Worth Ballet for their production of the Rite of Swing and numerous plays at Kitchen Dog Theater. She choreographed and performed in Plano Repertory's 2004 production of Swing as well as numbers in the Contemporary Ballet Dallas 2007 production of A Christmas Carol.
In addition to teaching in DFW, she has taught at workshops around the country including the St. Louis Tap Festival, American Lindy Hop Championship, Oakland Swing Festival, Swing Out New Hampshire, New England Swing Dance Championship, Great Southwest Lindy Fest and Austin Swing Riot.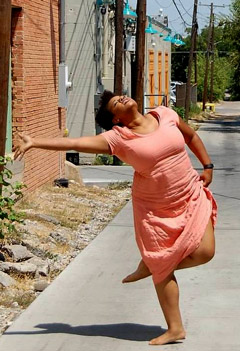 Ursula Hicks
Ursula Hicks, began her dance training 16 years ago in Ballet, Tap, Jazz, and later Modern and Contemporary dance. Ursula graduated with B.A. in Dance from Texas Woman's University in the summer 2013, where she studied with Marry Williford-Shade, Sarah Gamblin, Jordan Fuchs, and Gladys Keeton.
Ursula brings such musicality and enthusiasm to the dance floor, it's no wonder that she has placed in multiple lindy hop competitions including Lindy Fest, Bluebonnet Bash, Sundance Swing Out and a number of other competitions.
Ursula takes pleasure in collaborating with fellow artists and social dancing in the DFW area and enjoys teaching dance to students of all ages. She is an absolute joy to watch and learn from.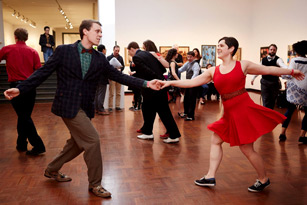 Zachary Malone
A DFW native, Zach Malone found Swing dancing in 2006 when a friend brought him out (Just like everyone else, right?). At first it didn't really click, but after giving it another shot in 2008, he stuck it out for the long haul.
Zach, who is an incredibly inventive and talented dancer himself, enjoys seeing people create and play with the dance. This fascination serves as a the foundation for his own dancing as he and his partner play with the song and rhythms, creating different ways of moving and connecting with each other. Outside of dancing, computers, rock climbing, and generally being a goofball hold the highest interests.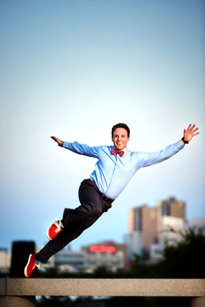 Baron Smith
Baron has been dancing Lindy Hop for more than a decade. Over the years, he has regularly competed, performed, and taught all over the nation – from Washington, D.C. to the Pacific Northwest and everywhere in between. Since his beginnings in Lindy Hop, Baron has also actively dabbled in tap dance, which he regularly incorporates into his Lindy Hop.
You will find Baron lighting up the dance floor with joy, rhythm and a playful spirit. He carries this enthusiasm from the social dance floor into the classroom to share with his students. He focuses on intentional body movement and concept correlation while creating a positive atmosphere to foster fun, learning and growth.
When he is not traveling, you will most often find Baron teaching Lindy Hop and DJing in his home scene of Fort Worth, Texas.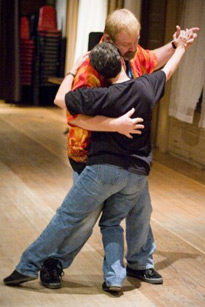 Kathy and Jerry Warwick
Kathy Warwick has been teaching dance in Dallas for almost ten years. She has specialized in in the vintage dance forms of the early 20th century, to include Lindy Hop, East Coast Swing, Charleston, Jazz and Blues dance forms. She is a founding member of the Dallas Swing Dance Society, currently sits on the board of directors and is the Executive Director of Acme Swing Company.
Kathy has been a featured dance instructor at Austin Blues Party, Enter the Blues, Denver Blues Summit, Houston Fusion, Emerald City Blues, Down Home Blues, Mezz Jelly and many other dance workshops across the United States. She believes learning to dance should always be fun and strives to help all of her students achieve better results that they ever imagined.
A dance instructor with over a decade of experience in Blues, Lindy Hop and East Coast Swing, Jerry Warwick has been social dancing for four decades. His most recent 14 years have been dedicated to Lindy Hop, East Coast Swing and Blues styles.
Jerry, with his wife Kathy, have taught to rave reviews across the U.S. as featured instructors. They have and entertaining style of teaching with a strong emphasis on technique and fundamentals. After a class with Jerry and Kathy you will realize that you not only had a great time but you walked away with principles you can use all night long on the dance floor.
Shawna and Mike Westervelt
Mike and Shawna have a combined dance history of over 17 years. In 2006 Shawna went to her first Lindy Hop dance in Charleston, SC and never looked back. Mike started dancing in 2007 in Greenville, SC and quickly fell in love with the dance (and Shawna). Both have served on their respective swing dance boards to include organizing weekly dances, workshops, exchanges and teaching.
In 2013 Mike and Shawna moved to Texas and started the Longview Swing Dance Association. Between Mike's unique ability to break down moves and technique (along with his terrible puns) and Shawna's enthusiasm they make a great team. They are both passionate to encourage others in their growth as dancers.